CLUSTER READING EVENT
On Wednesday 7th June, reading club members, from our cluster primaries, met at the Secondary Phase, to review the eight selected books that they have been reading over the course of the year. The eight titles were:
Boy in the Tower by Polly Ho-Yen
The Silver Donkey by Sonia Harnett
Wonder by R J Palacio
WARP- The Reluctant Assassin by Eoin Colfer
The Boy Who Sailed the Ocean in an Armchair by Lara Williamson
Demolition Dad by Phil Earle
How to Fly With Broken Wings by Jane Elson
The Wolf Wilder by Katherine Rundell
The books were chosen from a range of genres, and authors, to encourage students to venture out of their comfort zone and to try some stories that they might not normally read. It was really impressive to see how many of the pupils had read the books, and wonderful to hear about the activities they carried out in their reading clubs at school. For example, students at Great Dunham took it in turns to bake a cake based on the book they were currently reading.
During the event, the Year 6 pupils from each school were mixed into different groups so that they could get to know each other. Supported by secondary phase students; Jessica Banham, Isla Palmer, Summer Peacock, Felix Platt, Sophie E Russell, Sophie M Russell and Amelia Platt, they discussed and debated their thoughts, opinions, likes and dislikes about the books. It was really interesting to listen to all their different, and often conflicting, points of view.
Some of the pupils had written reviews about their favourite story, which they read out loud to everyone. Some of these are shown below:
A review of Wonder by Louis, Great Dunham
 "I really enjoyed Wonder because I loved how the book put the story in different people's point of view. I felt sorry for August because Jack was mean to him, but he only did it to impress Julian (Julian is mean). I would give wonder 10 out of ten. It was sad, it was funny, it was amazing, it was a wonder. I would recommend Wonder to years 5 to 7. It is the best book I have ever read"
A review of Wolf Wilder by Jessica  Year 7
 "I really enjoyed this story because it has many twists and made me want to read on. Throughout the book I cried as I imagined what it would feel like if I was Feodora. The best bit for me was when all the kids of the village came and helped Feodora and the boy, and with this, all the adults came to help as well. I enjoyed the part when general Rakgoff got his comeuppance too. I love the fact that although it was creative and imaginative it also had parts which were historically correct. I could not put the book down."
The groups then competed in a quiz about the stories, before voting in a secret ballot for the best book. The clear winner was "Wonder" by R. J. Palacio.
Book List 
The Boy in the Tower by Polly Ho-Yen
When strange plant spores begin destroying buildings and killing people, a young boy and others strive to survive in their tower block in south London.
Ade loves living at the top of a tower block. From his window, he feels like he can see the whole world stretching out beneath him. But one day, other tower blocks start falling down around him. Strange, menacing plants begin to appear and no one knows where they came from. Now their tower isn't safe any more. Ade and his mum are trapped and there's no way out
Wonder by R J Palacio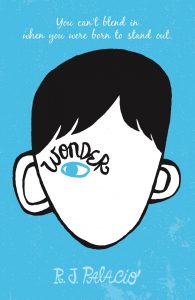 A 10-year-old boy, born with a terrible facial abnormality attempts main-stream school for the first time.
Auggie Pullman has been home-schooled by his parents for his whole life, in an attempt to protect him from the cruelty of the outside world. Now, for the first time, Auggie is being sent to a real school. But can he convince his new classmates that he's just like them, underneath it all?
The Wolf Wilder by Katherine Rundell
Feodora and her mother live in the snowbound woods of Russia, in a house full of food and fireplaces. Ten minutes away, in a ruined chapel, lives a pack of wolves. Feodora's mother is a wolf wilder, and Feo is a wolf wilder in training. When the murderous hostility of the Russian Army threatens her very existence, Feo is left with no option but to go on the run. What follows is a story of revolution and adventure, about standing up for the things you love and fighting back, and of course, wolves. 
The Reluctant Assassin by Eoin Colfer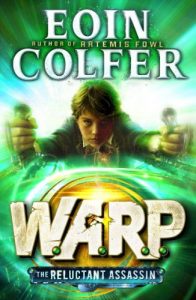 Riley is a Victorian orphan, hurtled into the twenty-first century and on the run from his evil master Albert Garrick, a terrifying assassin. Garrick pursues Riley through time, along with Chevie Savano, the F.B.I.'s youngest and most impulsive special agent. As Garrick relentlessly hunts them down, Riley and Chevie face a desperate race to stay alive and stop Garrick from returning to his own time-armed with knowledge and power that could change the world forever.
 The Silver Donkey
One morning in the woods of France, a blinded soldier is found by two sisters; Coco and Marcelle. In return for their kindness the soldier tells them marvellous tales connected to the keepsake he carries in his pocket – a tiny silver donkey. As the days pass and they struggle to help the soldier reach home, the sisters learn the truth behind the silver donkey and what the precious object means: honesty, loyalty and courage.
Demolition Dad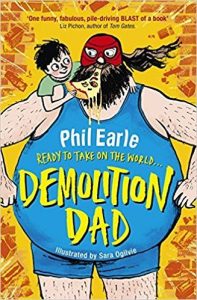 This is the hilarious story of Jake Biggs and his dad, George. George spends all week knocking down buildings and all weekend knocking down wrestlers. He's the Demolition Man, and Jake couldn't be prouder. But when Jake hears about a pro-wrestling competition in the USA, and persuades his beloved dad to apply, things don't quite turn out the way he expected.
How to Fly With Broken Wings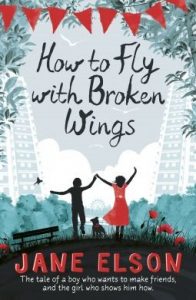 Twelve year old Willem has two important aims in life: to fly and to make two new friends his own age. But Finn and his gang of bullies are getting in the way, until one day Sasha Barton steps in to help. While the gangs on the Beckham Estate are rioting, and with the help of community worker Archie, Willem and Sasha form an unexpected friendship as they discover they share the same dream…
The Boy who Sailed the Ocean in an Armchair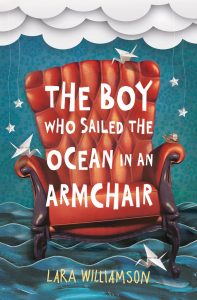 Becket Ramsay is all at sea. His dad has run away with him and his brother Billy in the middle of the night. And they've left everything behind, including their almost-mum Pearl. Becket has no idea what's going on – it's a mystery. So with the help of Billy and a snail called Brian, Becket sets out on a journey of discovery. It's not plain sailing but then what journeys ever are?